The School District of Newberry County will implement a leveled system to keep parents and the community informed of the COVID-19 numbers in our schools.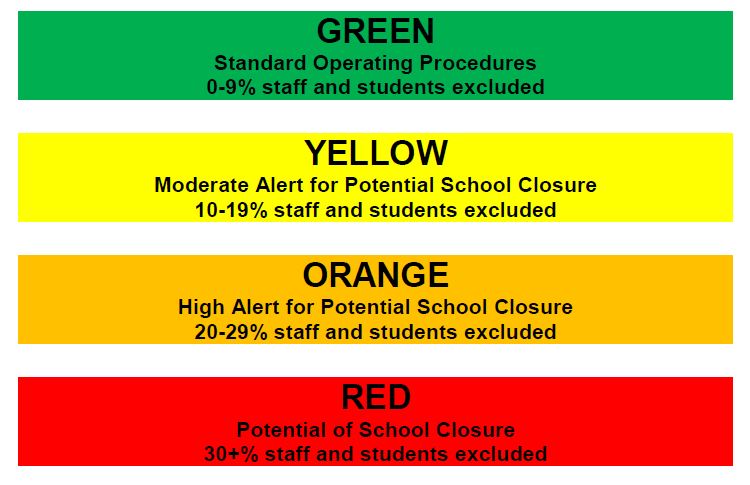 Per SCDHEC Guidelines updated January 4, 2022, consideration may be given for a school or grade level temporarily going to virtual learning. There is currently no data to provide an evidence base for a decision to go to virtual learning at a specific threshold of school cases. However, recognizing school district leadership could potentially benefit from expert recommendations, DHEC medical epidemiologists have developed potential thresholds for consideration, based on their professional judgement.
· School is unable to maintain operations with current staffing as determined by the school district,
· 30% or higher rate of absenteeism in the school or grade level due to COVID-19 (including students in isolation and in quarantine),
· 5–10% or higher of the student body is in isolation simultaneously after testing positive (or being assumed positive based on symptoms when not tested), or
· When discussed with and recommended by local medical and public health professionals based on the local healthcare system's capacity.
If a school (or grade level) temporarily goes to virtual learning for one of the above scenarios, SCDHEC recommends that they remain virtual for 7 to 10 days then re-evaluate the situation. The decision to close a school will be made in conjunction with the SCDHEC and the South Carolina Department of Education.
When the District has individual sites that reach the orange level, a message will be sent to parents and staff that indicates the rates are at a high level of potential transmission and there is a potential that school closure may occur.
If the district decides to close a school when the excluded percentages reach 30% (red level) or if the district cannot safely staff the school, parents will be given a 24-hour notice and the school will transition to virtual learning. Throughout the closure, the district will analyze the percentage of students and staff excluded to determine when a safe return to in-person learning can occur.
Schools will work with staff and families to ensure that each student has his/her technology device. Information concerning access to assignments and live instruction schedules will be provided to students and/or parents by principals and teachers.
Food services will continue to provide breakfast and lunch to students at closed schools during the temporary closure. Meals will be distributed daily by a drive-through pick-up service. Information regarding the times of pick-ups will be shared by each school site. Students will not be allowed to enter the buildings or eat on-site. The office of child nutrition will verify the student names as the meals are picked up.
Several school buses are equipped with internet access and may be dispersed to provide internet connectivity within the zone of the school closed. The times and locations of the buses coming around for internet access will be shared after the decision to close a school is made.