Newberry County Library System Summer Reading Program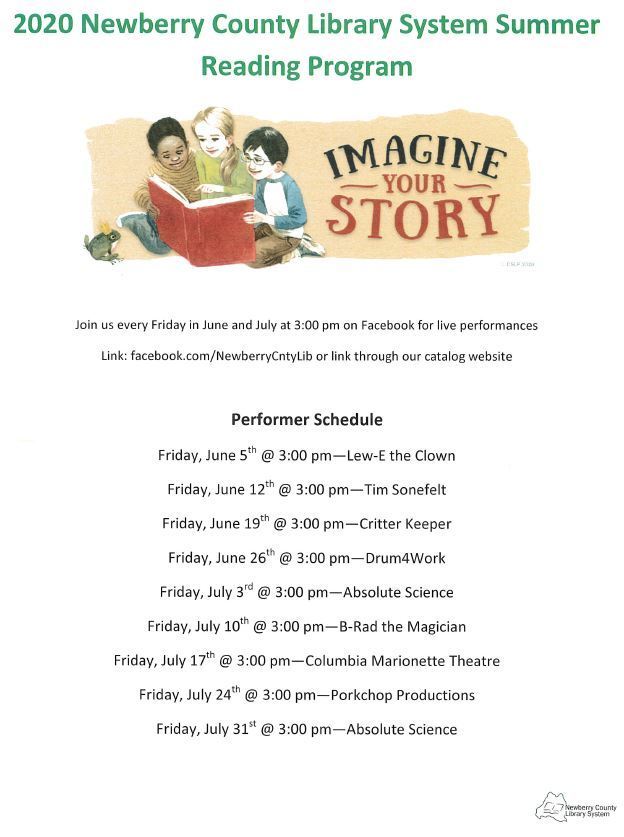 Due to the rise in the number of confirmed COVID-19 cases in South Carolina and Newberry County, we have decided to postpone the start of fall sports summer workouts until further notice. Please know that this decision was made in an effort to protect the health and well-being of our student athletes, coaches, and staff. We will closely monitor this situation and stay in contact with DHEC as we move forward. We look forward to getting back to practice and play as conditions permit.
Attention Parents of Students in Grades K-3: The South Carolina Department of Education has collaborated with various stakeholders to create resources for students that will allow for continuous instruction throughout the summer. State Literacy Specialists and Early Learning Specialists identified essential learning needed by students for successful fall re-entry, and created lessons that can be used by teachers and parents through a variety of delivery methods. All current and previous resources may be found at
www.SCRemoteLearning.com
.
Congratulations Class of 2020!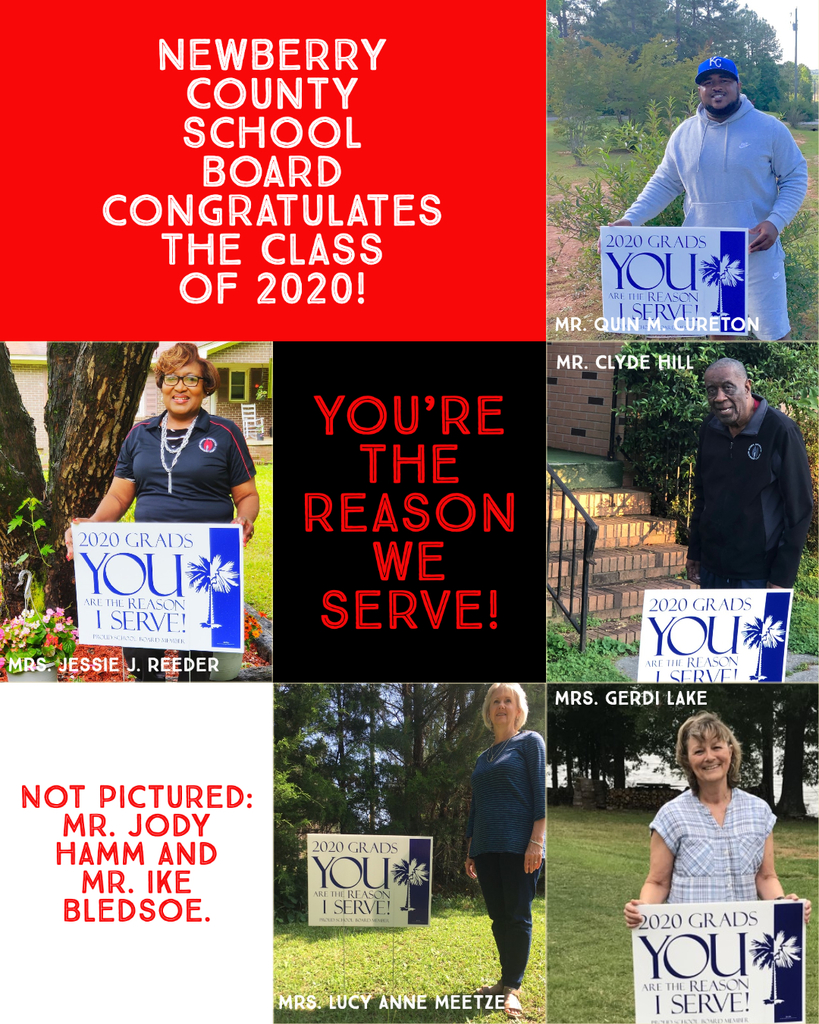 In observance of Memorial Day, Free Meal Service pick ups will occur on Tuesday, May 26, rather than Monday, May 25. Also, Tuesday, May 26 will be the last date for the mobile bus meal service sites. Meals will continue to be offered every Monday during the month of June at Mid-Carolina High School, Newberry High School, Whitmire Community School, Newberry Middle School, Pomaria-Garmany Elementary School and Reuben Elementary School.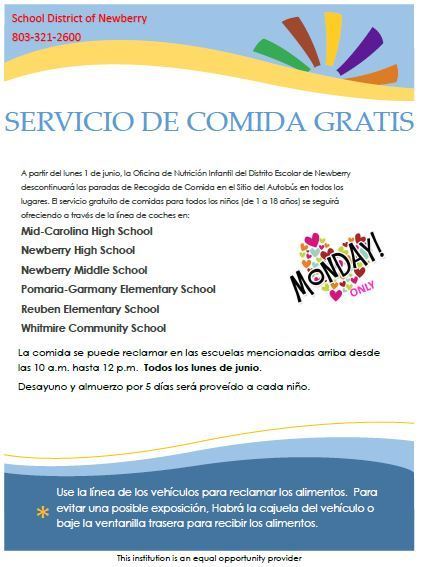 The School District of Newberry County has established graduation dates and times for the Class of 2020. Whitmire Community School will have graduation on June 2 at 7 pm in the school gymnasium. Newberry High School will have graduation on June 3 at 9 am at Mike Ware Field. Mid-Carolina High School will have graduation on June 4 at 9 am at Lon Armstrong Stadium. All graduates will be limited to 2 tickets each. Social distancing guidelines will be adhered to at all graduations. A commemorative DVD will be provided for all graduates and will also be posted to the district's YouTube channel. School specific procedures will be shared with the graduates and their families. We thank all of you for your patience as we work to make this a special time for our graduates.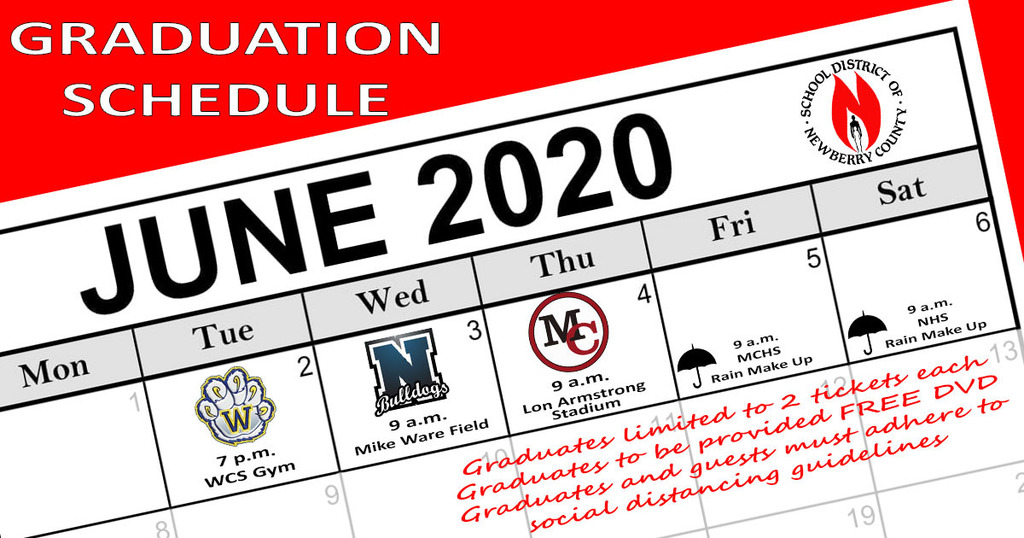 Our final packet return will be on Thursday, May 14 from 9 am – 1 pm. If you cannot make it to your child's school during this time, please contact the school to arrange to drop off all completed work prior to this date. No student work will be accepted after 1 pm on Thursday, May 14. This will also be parents last opportunity to pick up any medications that are at the school. If your child's medications are not picked up by 1 pm on Thursday, May 14, the school nurse will properly dispose of these medications. We recommend your child continue to read and explore their interests through projects or research over the summer. Everyone with the school district would like to thank you all for your continued support and cooperation during this time. We miss our students and families and look forward to when we can see you all again.
Our partners at Newberry Mental Health want to help during this time of stress and change. Our school-based clinicians will continue treatment with their existing students. However, if you feel they could be of assistance to your family during this time please contact Newberry Mental Health at (803)276-8000. All families can utilize their resources to assist with talking to your children and managing your family's mental health during this time.
https://www.ffcmh.org/covid-19-resources-for-parents

All Newberry County School District schools will remain closed for the remainder of the school year, per the governor's announcement. Additional information regarding instructional packets, graduation, textbook returns, etc. will be provided at a later date. We thank all of our students and parents for their cooperation during this time. We also want to thank all of our teachers, bus drivers, cafeteria workers, administrators, and all other staff members for the work they are doing while our students are not in school. We miss you all and look forward to when we can get together again.
Please visit the South Carolina Department of Education website for remote learning at
www.scremotelearning.com
to access resources for parents, students, and teachers.
In an effort to assess internet capabilities within our district, we are asking that all parents complete the following survey by Tuesday, April 14. Internet is defined as ability to use a desktop, laptop, or tablet at home. For the purpose of this survey, access to internet solely through a smart phone is NOT considered internet access. Please complete a separate survey for each child who attends a school in Newberry County. Even if you previously completed a survey through your school, please take a moment to provide the information requested at
https://bit.ly/SDNCInternetSurvey
.
CDC guidance discourages students and staff from gathering or socializing anywhere, like at a friend's house, a favorite restaurant, or the local shopping mall. We encourage you to stay home as much as possible to decrease the spread of COVID19 in our community. It will take all of us working together to help slow this virus. For more information on How to prepare and take action for COVID19, click the link.
https://www.cdc.gov/coronavirus/2019-ncov/community/index.html
If you have fever, cough or shortness of breath, call your doctor or healthcare provider to discuss your concerns or get medical care. You can also use MUSC Health's virtual visit (
https://campaigns.muschealth.org/virtual-care/index.html
) by using the promo code "COVID19." For general questions about COVID-19, the DHEC Care Line is here to help. Call 1-855-472-3432. Staff are answering calls from 8 a.m. to 6 p.m. seven days a week.
Assignment pick-ups will be available at your child's school Tuesday and Wednesday, March 17 and 18 between 8am – 4 pm. If the times available do not work for you to pick up assignments, please contact your child's school. Each school will be posting a link requesting information from parents regarding Internet access. Please complete the survey posted on the school website and social media account to give us important information regarding your Internet access. If you are experiencing any symptoms of the virus, including fever, cough, or shortness of breath, please do not come to the school to pick up assignment packets; please contact your primary care provider. For general questions regarding COVID-19, please call the DHEC Care Line at 1-855-472-3432. We will be sending out additional information regarding breakfast and lunch as soon as available.
With the Governor's proclamation for closing schools, the School District of Newberry County will not have school through March 31. Students and families are asked to continue to practice good hygiene by washing hands and also maintain social distancing by staying six feet away from others. We will be sending out information about meals being provided to students, including locations to pick up breakfast and lunch in the near future. We will also provide information regarding student assignments to be completed during the closing. Additional details will be provided soon.
We are monitoring very closely the situation related to COVID-19/ Coronavirus, as the safety of our students and staff is our utmost concern. We are in close contact with the South Carolina DHEC and the State Department of Education and will continue to follow their guidance. Should you have concerns, you can call the DHEC Care Line at 1-855-472-3432. More information can be found on our District Website. Click here for District Updates -
https://www.newberry.k12.sc.us/o/sdnc/page/school-health-services-home
Handwashing is an easy, cheap, and effective way to prevent the spread of germs and keep kids and adults healthy. cdc.gov/handwashing/handwashing-family.html